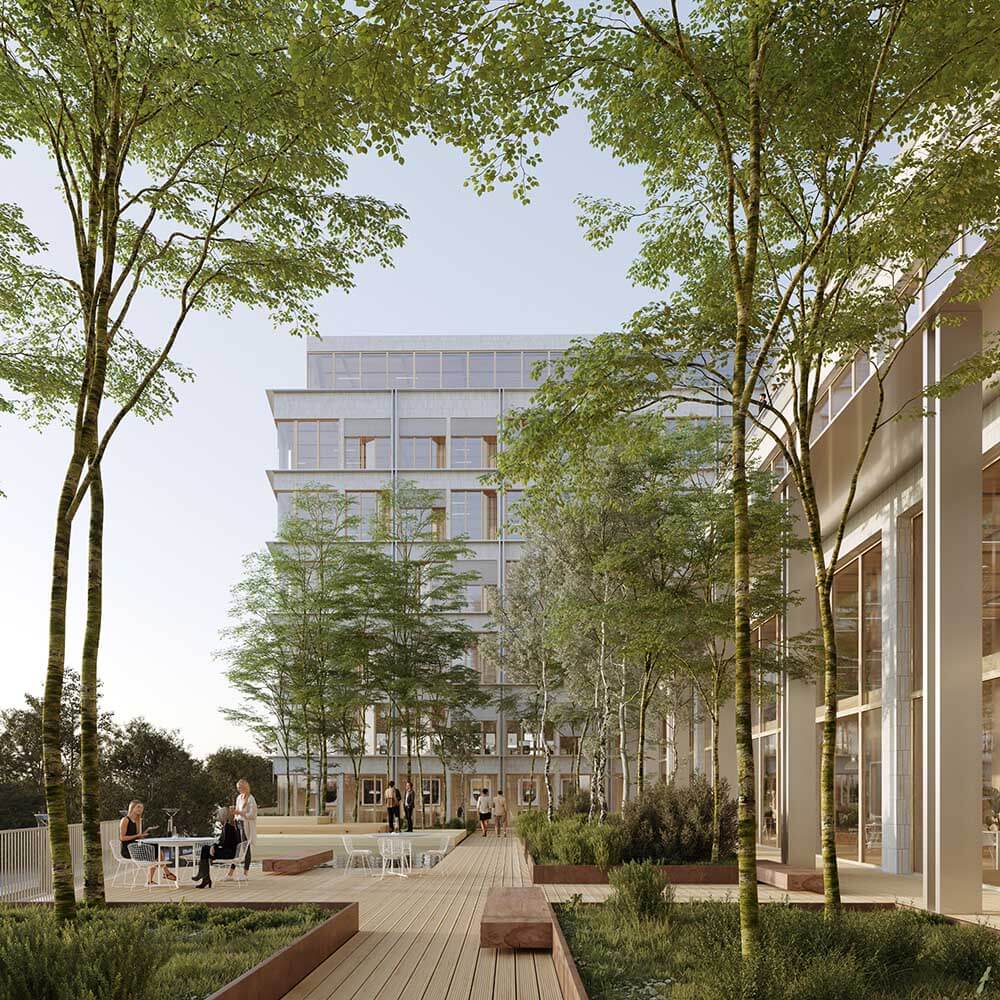 Located near the station of Bécon-les-Bruyères and the future Grand Paris Express station (line 15), the future Village Delage in Courbevoie is now the subject of major urban renewal.
Thanks to its peripheral positioning and the visual link with the railway, the B5 lot will be a figurehead of the new Ecoquartier.
The project is designed to open up to the neighborhood, to a particular and lively local history, to a neighborhood in which it aims to actively participate. At the origin of its design, the connection with public spaces naturally suggested a volume in which the green outdoor spaces, such as courtyards and large terraces, returned to the City, for the benefit of users but also residents.
In a search for porosity and spatial continuity with the street, the large central hall on the ground floor constitutes a covered passage for citizens, very transparent on the facade and occasionally lit from the upper part. The public space thus benefits from this great visual breakthrough in the heart of the building.
With a continuous approach of creating contemporary workspaces, a fitness area, and several differentiated catering areas are offered in a base and open to the street. This activity is extended on the large, densely vegetated terrace on the first floor by a cafeteria facing south directly. This terrace, a real place of relaxation and meeting in the context of everyday life, can be transformed into a suitable place to support office activities. It benefits from proximity to public space and visibility from the railroad tracks.
Constant plateau depths allow freedom of layout, from a partitioned configuration to widely open spaces. With the multiplication of facades, the proposed volume blurs the boundaries between interior / exterior, also maximizes surfaces in the first day for naturally lit floors.
Flexibility is at the center of the building design. On the upper floors, rental divisibility is maximized both horizontally and vertically:
– Horizontally, each floor can be rented separately: for each elevator shaft, the project provides an easily adaptable breathing and distribution area with reception / access to control areas on each floor. This allows the development of lounge and waiting areas for visitors, as well as herbal tea areas, in order to obtain a more qualitative layout of the plateau.
– The vertical rental divisibility is easily applicable thanks to the shape of the building, to which the application of the rule of compartmentalization and natural smoke extraction of office floors naturally inspires the division into four plots. The building is therefore conceived as an organic and unique whole but separable into four distinct blocks, which can be rented independently or in groups.
Typology: Reversible desks
Client: BNP Paribas / Interconstruction
Project location: Courbevoie (92)
Surface: 23,500 sqm
Status: Competition 2021
Cost of the work: € 50,000,000 excluding tax
Project manager: Ilaria Giorgi
Team: Oscar Metz, Pauline Fernandez
Labels: BBC or BEPOS Effinergie 2017
"Exceptional HQE" passport
E + C- certification
RE 2020 compliance
Biodivercity
Ready to Service
Partner: Arcadis
Perspectivist: Jeudi Wang
Categories:

Share Project :