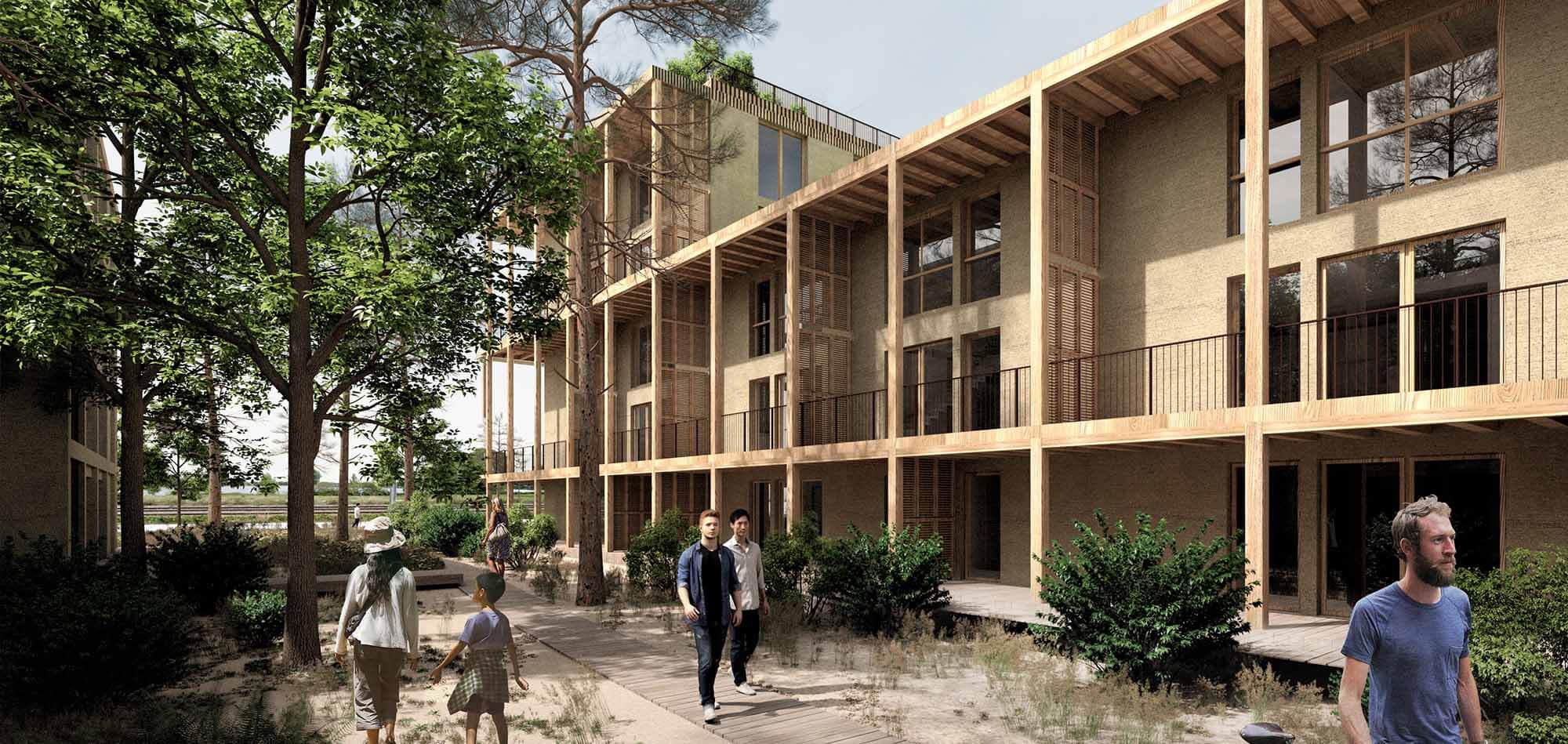 Set in a dune landscape on the banks of the lake, the block 6 offers a woven volumetry, sculpted in layers and bordered by passageways.
In that sense, the two buildings of the block (6A and 6B) are sequenced by strata. Each begins with an urban and compact plot on the quay side. This beginning on the city defines a harmonious frame which extends on the intermediate building.
The project is crowned by the common garden and the vegetable garden on F+3. The sequence ends with the lake building oriented towards nature and the park. This fragmented spreading allows visual porosity on the scale of the plot.
Pedestrian and bicycle access are concentrated to the north in connection with the dock. On the ground floor of the quay buildings, the halls, bike rooms and technical rooms are directly linked to the deck. They initiate the transition between the scale of the neighborhood and that of the house. Thus, the road leading to the many duplexes is done by generous passageways and external stairs.
Client: Covivio
Project location: Bordeaux (33)
Program: Housing
Status: ODA in progress
Plot area: 3,080 sqm Floor area: 4,456 sqm
Cost of the works: €7,000,000 excl. tax
Delivery: 2023
Environmental objectives: E2C1
Labels and/or certifications: – IntAIRieur, BEE+
Project manager: Nataly Tello
Team: Ilaria Giorgi, Oscar Metz
Urban architect: BLP Brochet Lajus Pueyo
Landscaper: Mutabilis
BE structure: Kephren
BE fluids, thermal engineer, acoustics: Amodev
Perspectivist: Thomas Jacques
Categories:

Share Project :