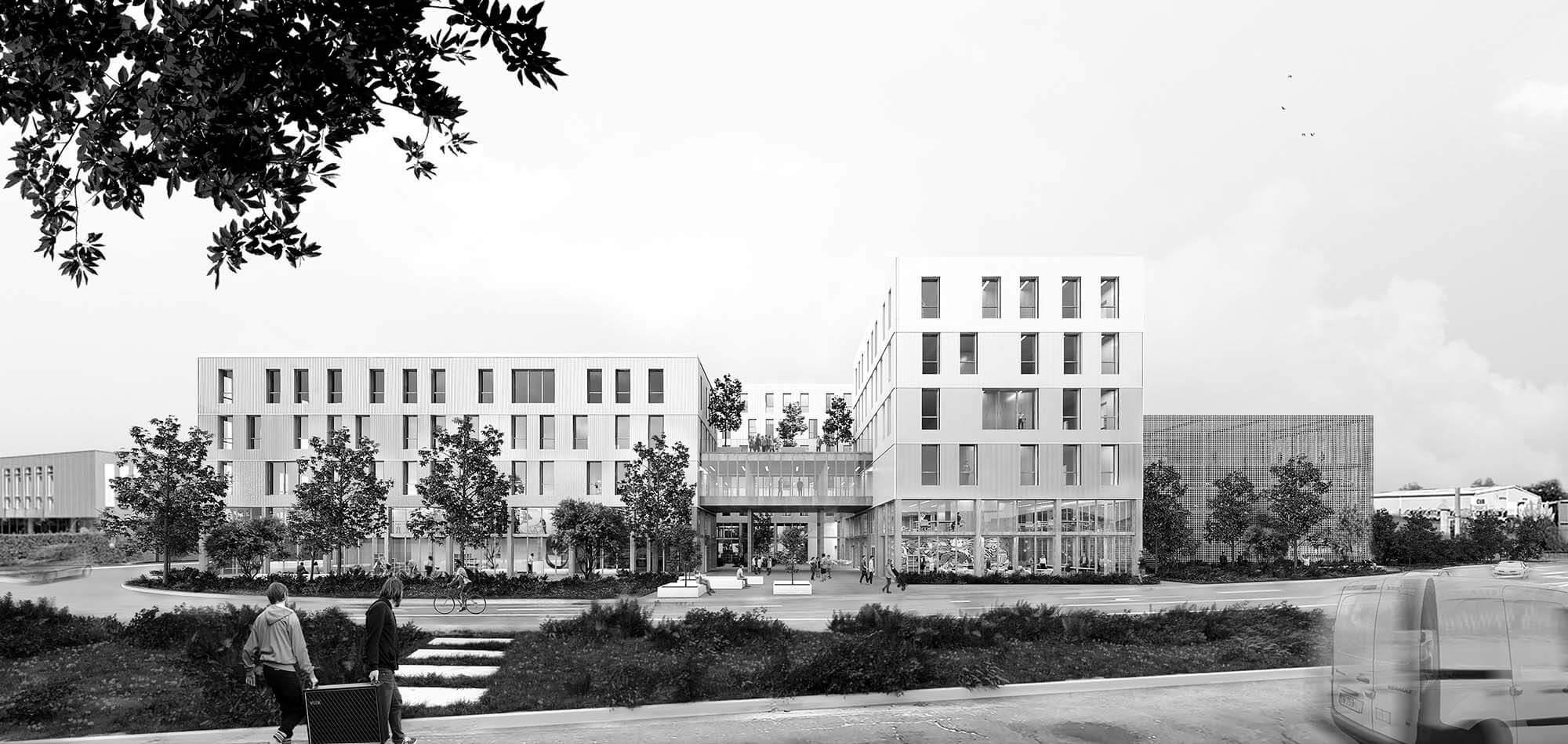 EVE is designed with simple volumes that respond one to each other around a central area, a place of destination and conviviality.
Like a village square, the heart of the block reflects the ambition of the project:  promote synergies and meetings between worlds and disciplines.
A metallic and vibrant facade will make the link between life inside the building and the surrounding biodiversity.
It was essential for EVE to offers a constantly evolving architecture, in line with the needs of the occupants and of the entire urban area over time.
In order to put an end to the planned obsolescence of constructions, the buildings are 100% reversible for new multiple uses: offices, 4th category public buildings, housing.
No modification of the structure or facades is required for their characteristics, including constraints related to fire and accessibility regulations, are designed to allow spaces to adapt to future changes of the city without distorting the spirit of the project.
EVE is a soberly built, leading to low-carbon exploitation, to adapt to territorial climate change.
We have worked to reduce our impact on materials and energy, thanks to:
– the use of materials with a lower carbon footprint such as wood, bio-based insulation, low-carbon concrete and recycled steel
– photovoltaic panels and geothermal energy on probes, with thermal energy of renewable origin covering 80% of the needs.
– the reversibility of spaces
This approach allows the reduction of the carbon impact of the project estimated at around -40% compared to a "traditional" project.
Project location: Bruges (Gironde – Bordeaux Métropole)
Client: Sogeprom / Engie Solutions
Delivery: Competition 2021
Program: Tertiary sector with active base, UIMM premises and workshops, business incubator
Total area: 12,000 sq.m SDP
Cost of the works: 17M € ex-tax
Labels: E3C1 building, BDNA labeled
Project manager: Ilaria Giorgi
Team: Oscar Metz
Perspectivist: Thomas Jacques
Categories:

Share Project :