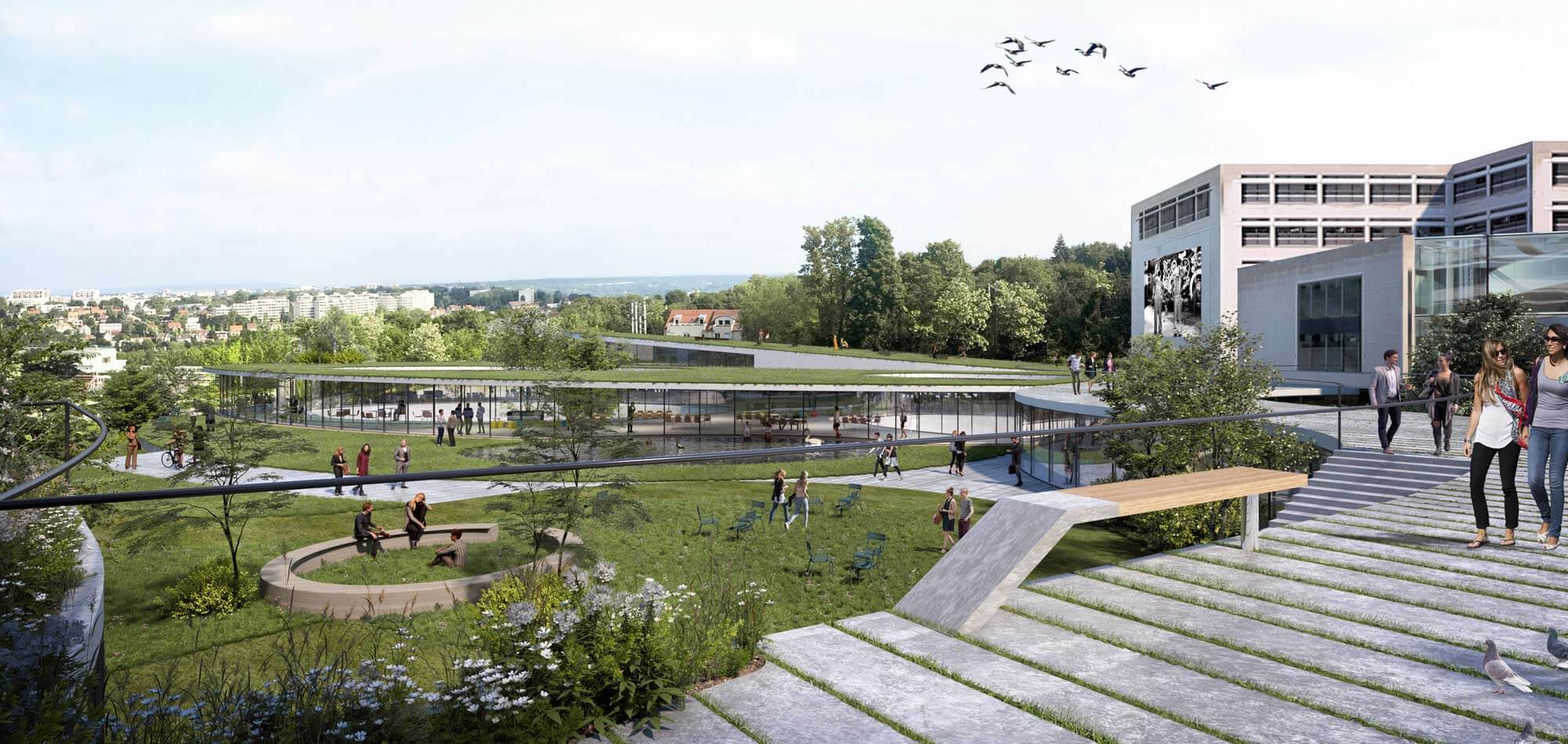 On the 30,000 sq.m campus of La Colline Marly, our agency has carried out a study of repositioning and valorisation of the site oriented towards biophilia for the account of York and Stam Europe.
In this context, we checked the feasibility of an 10 000 sq.m extension with fitted roofs. Coworking spaces, catering, a lounge room, patios opened to the outside… this new building extends campus activity away from the old offices and blurs the boundaries between outdoor and indoor.
Playing on natural materials and mirror games with the choice of a combination of wood, glass and aluminium, this extension draws users a path for both a physical and contemplative new walk inside the buildings.
Witnessing this porosity with the outdoor, the agency then designed a new generation workspace on the fifth floor of one of the campus buildings. Surrounded by large glass openings, the 250 m² of space have been designed to promote well-being and appropriation of spaces by users. The custom-made interior design linking wood, glass and natural elements integrated reflects a borderless approach, totally oriented towards biophilia.
The campus is inaugurated on the 11 th of June 2019.
In an outstanding global project which cannot be missed, both buildings create a modern architectural unit of great visual quality. Their silhouette gives a glimpse of the places of life on a human scale that compose them. Connected by a wooded terrace on the ground floor, their design has been thought  to release the view to the sky through volume games.
Project owner: VINCI real estate
Project location: Villemomble, former Conservatoire's site
Program: Mixed
Status: IMGP 2019 Competition
Total plot area: 2422 sqm
Floor area: 4731 sqm
Cost : € 7.6 million
Project Manager: Ilaria Giorgi
Perspectives: Thomas Jacques
Partners: Senior Res. : The Seniorales / Housing : CDC Habitat / Environment engineering : OASIIS
Categories:

Share Project :