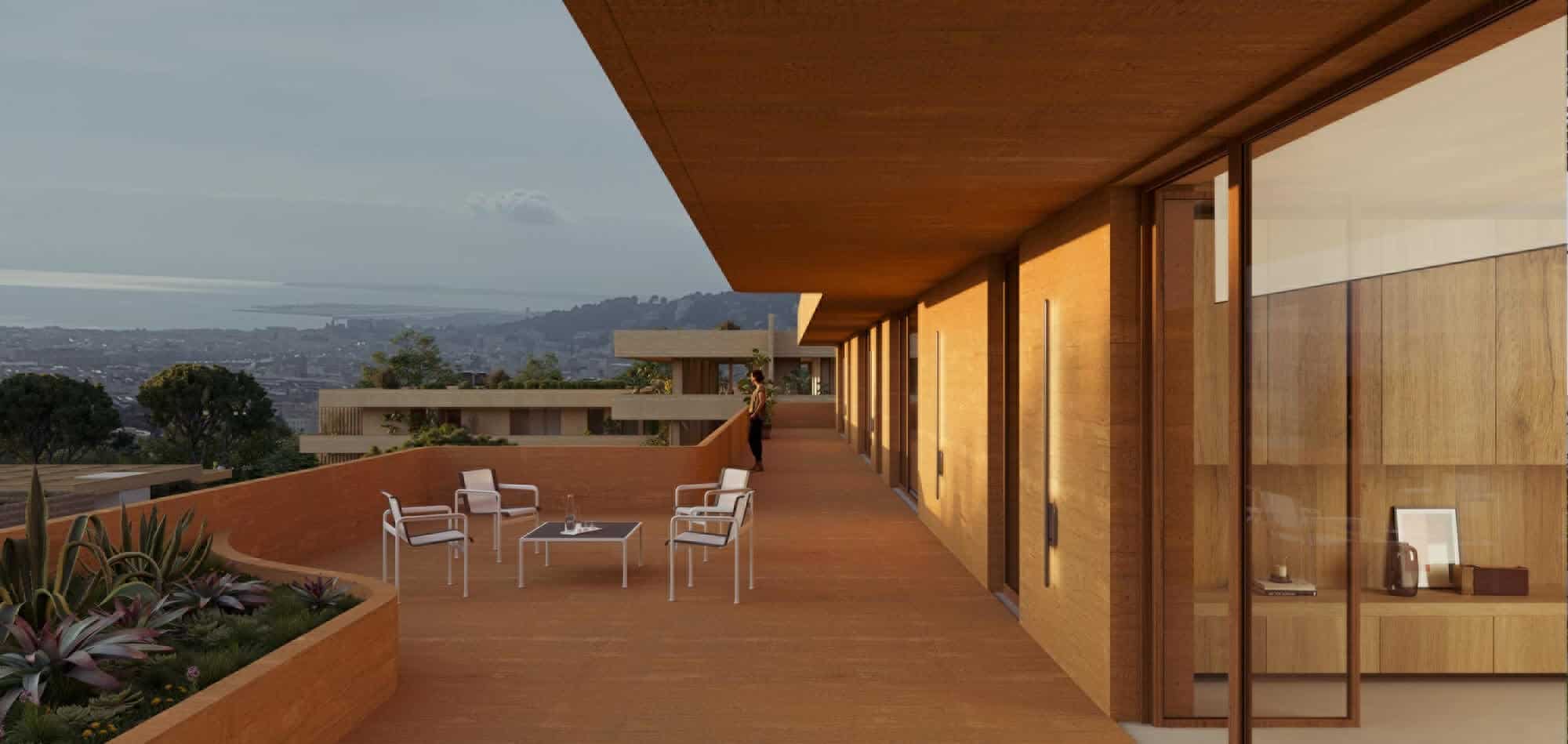 "The project carries the fundamental principle of an architecture that connects man to his environment by unifying inside and outside universes.
The project affirms an architecture of shades and layerings. By using soil as a material and by adapting technique to the place, we imagine the district's revival. The specific site is not just a natural landscape, it is a mixed material around which life flourishes. The result is a natural architecture, rooted in its environment.
Like Frank Lloyd Wright's Falling Water, the ambitious program and its density lead us to offer a tiered architecture, playing with the buildings height and the ground's oscillations.
Distances between the different buildings (14 meters minimum) have been carefully studied to limit the shadows cast between them .
In the south of the plot, the large garden aims to become the neighborhoods  green lung. Thanks to a succession of "restanques", it takes the shape of a terraces structured garden and ensures the continuity of the green fringe along Brancolar Avenue.
The housing that we imagine must consider the plural aspect of domestic reunification. The family has now become multiple, mobile, multifaceted, and housing must adapt to a multitude of changing realities.
The small (the use) scale and the large (the territory) scale are intimately linked and form the projects. In this project, there is not two part of the plot to inhabit : the city on one side, housing on the other, but a continuous whole to live and consider.
The plot organization has been though for these uses, with a deep respect for the private sphere and the functioning of common and public uses.
Project location: Nice (06)
Client: Covivio
Program: Collective and intermediate housing, a senior residence, a nursery and shops.
Delivery: Competition May 2021
Total area: 18,000 sqm
Cost of the works: € 37 million excl.
Environmental approach: E + C- RT2020, NF Habitat HQE very efficient
Team: Nataly Tello, Ilaria Giorgi, Oscar Metz
Partners: Mutabilis (landscaper), Arcadis (BET structure and environment)
Perpectivist: Jeudi Wang