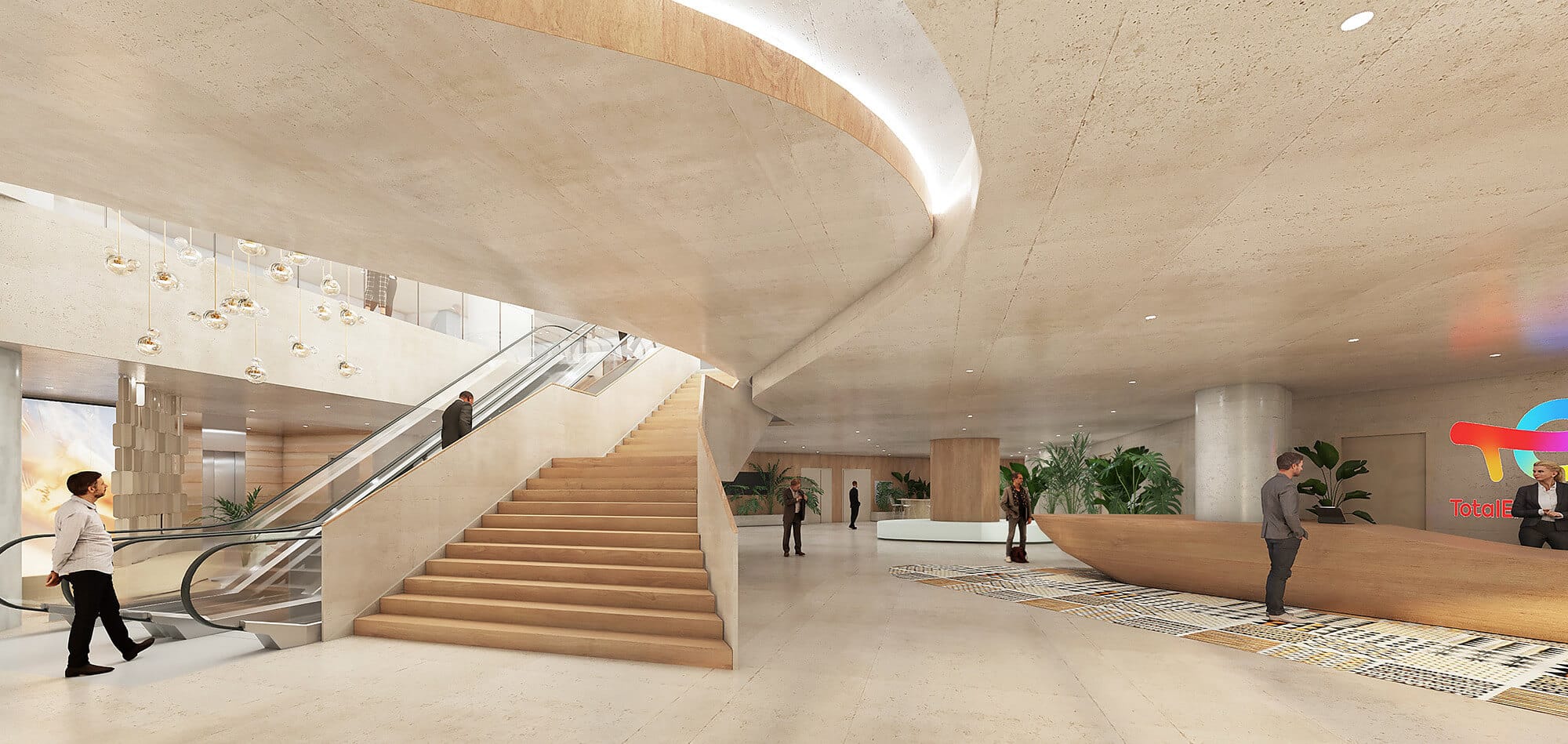 OUR INTERIOR DESIGN CONCEPT FOR THE LINK TOWER, PLACE FOR AMBASSADORS OF " UNIVERSALITY AND DIVERSITY"
To express universality through mineral matter, raw and authentic, we worked like a sculptor who shapes a material. We offer dreamlike, contextualized, lasting and human-scale spaces to ensure well-being, comfort, that are adaptable to changes.
Our will ? Expressing  cultural wealth diversity and energies of nature.
TOTAL ENERGIES EXPLORES, INNOVATES, IS AT THE FOREFRONT IN THE FIELD OF RESEARCH
Places must move us to another dimension, take the path to a new horizon, to the horizon of energy change and digital innovation. We search to highlight French touch and know-how, which embodies high quality work, but also the originality of French talent.
"INSPIRED BY NATURE" SPACES
We aimed at creating places of joy, inspiration and interconnection. Biophilic design provides us with the foundations to positively evolve human well-being in the built environment, while sensitively responding to the unique ecology of places, cultures, history and beauty.
We wanted that people comes back with pleasure or rediscovers new rich and diverse workspaces.
Typology: Offices
Client: Total Energies
Project location: Paris La Défense (92)
Surface: 20,000 sqm
Status: Competition 2021
Cost of the work: € 19,000,000 excluding tax.
Project manager: Giulia Castaldi
Partners: Bateg (Vinci Construction), Ae 75″
Categories:

Share Project :